Pastor David teaches on global perspective and engagement in "God So Loved the World." This is the sixth sermon in "A New Way of Life" fall sermon series.

Pastor Gary Peterson teaches on 2 Corinthians & Ephesians 4 in "Walking with Grace." This is the first sermon in the "Walking with Jesus" series.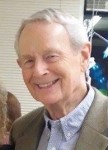 Preacher :
Gary Peterson
Passage:
2 Corinthians 12:7-10
We love God by putting His priorities above our own. We are learning to trust God so deeply that we see our real citizenship is in heaven, and our security…

Pastor David teaches on Acts 15 in "It Seemed Good to the Holy Spirit." This is the second sermon in the "All Saints" series.