Pastor David teaches on Luke 21 in "What Is Weighing on Our Hearts?"

Pastor David teaches on Matthew 2:1-18 in "The Dark Side of Christmas." This is the sixth sermon in the "Christmas Stories" series, given on the Fifth Sunday in Advent.

Pastor Brad Hill teaches on John 12 in "Some Say It Thundered." The service streamed on Midway Covenant Live on April 5, 2020.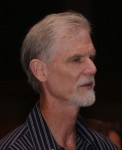 Preacher :
Rev. Brad Hill