Pastor David teaches on Luke 19 in "Our Vitality Journey, Facing the Unknown." This is the eleventh and final sermon in the "Keys to Church Vitality" series.

Pastor David teaches on Jeremiah 31 in "Written on Their Hearts."

Passage:
Jeremiah 31:31-37
Pastor David teaches on Romans 8:1-11 in "Natural Law," part of the Love Illuminated series. It is through the Holy Spirit, not the law, that we find our identity, our…

Rev. Gary Peterson teaches on 2 Samuel 7:1-14 in "It Is Not About Me." This is the seventh sermon in "The Spirit of Leadership" summer sermon series.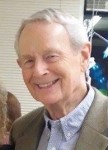 Preacher :
Gary Peterson