Let's Welcome Pastor Deb!
Plans are underway to welcome Midway Covenant's Interim Pastor! As mentioned in an earlier update, your Leadership Team, following the guidelines set out in our church's constitution, officially called Pastor Debra Gustafson on March 31, with a mutually agreed start date of June 1. Pastor Deb is planning to move from Bellingham on Saturday, May 30. She will be "with" us on Sunday, May 31 and installed on Sunday, June 7.
How we wish we could all be together to mark this significant event in the life of Midway Covenant! While you will be able to "meet" her in our livestream services, she will not be able to "meet" you. And she is eager to do so! We can provide her with your names; however, how will she put a face to a name?
As a gift to Pastor Deb, we are inviting you to participate in the first ever (drum roll)…
"Drive-By Welcome Reception"
We ask you to prepare a sign with your name(s) on it—in font large enough for Pastor Deb to read from 6' away. Then in the afternoon of May 31, beginning at 2 PM, you will be able to parade past the front door of the church, exit your car, and welcome her while holding your sign. Pastor Deb can meet you from a safe 6' away—AND quickly take your picture. Voila! She now has a way to become acquainted with the Midway Covenant Family and put faces with names. Mark your calendar now!
Prayer Concerns
Smooth move for Pastor Deb from Bellingham to Normandy Park
Smooth move for Rosemary Maulden to Wesley Terrace
Comfort and provision for families acutely impacted by Covid-19
Midway Covenant stay strong together while apart
Post prayer concerns to prayer@midwaycov.org.
Ways to Continue Supporting Midway Covenant
Being unable to gather has significantly impacted our giving to Midway Covenant. THANK YOU to each of you who have found an alternate way to maintain your faithful giving! To help you find a new rhythm in your support of Midway Covenant, here again are options for you:
Give online at https://go.midcov.org/give
Set up a monthly transfer of funds with your bank
Mail a check to the church office: 22460 24th Ave. So., Des Moines, WA 98198
An Opportunity for Women
You are invited to join a growing group of women who are staying connected in a unique way. Send any prayer requests and/or praises to Holly Dowsing (hdowsing@msn.com) by Monday night. Holly then compiles them all and emails them back in time for a "corporate" prayer on Thursday, 10:30 AM. The women are also reading through Acts and sharing any insights, comfort, correction, etc., that came to them during the week.
Thank You!
to Don Paige for volunteering to be our Maintenance Point Person!
to Karen Tiefenthaler and Lesa Allen for their "spring cleaning" efforts at church!
to Ron Town and Dennis Brass for their work beautifying the church grounds!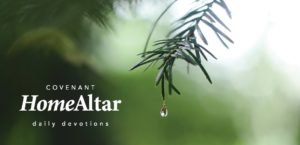 Did You Know…?
Pastor Shaun was featured in the Covenant's Home Altar May 3-9. Check it out here!
---