Sharing the Harvest!
For years, Wiley Heights Covenant Church has partnered with Yakima Valley apple growers to make apples available to people, with proceeds going to help those in need through Covenant World Relief. Click here to read how the program works. Sales of Apples in 2020 will benefit villagers assisted by Jitokeze Wamama Wafrika. Jitokeze seeks to empower marginalized and vulnerable girls and women in West Pokot Kenya to overcome poverty and improve their resilience to the impacts of climate change as well as contribute to building sustainable communities where they dwell. By purchasing 10 pounds of apples for $10 through Sharing the Harvest, you get to enjoy delicious Yakima Apples at a great price and make a significant difference in the lives of impoverished villagers in Kenya. Ordering information is coming soon! The apples will arrive the last week of October.
Inquirers' Class
An Inquirers' Class, the pathway to becoming a member of Midway Covenant, will be held Sunday, October 11 in the Fellowship Hall. This class gives you the opportunity to learn about the history of Midway Covenant as well as the greater Covenant denomination. The three-hour class will begin after the morning service. Let Pastor Shaun or Chair Ruth Hill know of your interest in attending.

Re'uven Higgins is our featured Midway praise-giver this week. Re'uven has a joy-filled heart, and one of his favorite things to do is say an exuberant "Amen!" after anyone prays. As Psalm 8:2 says, "The mouths of children and infants proclaim the praises of the Lord."
Lori-Lee's Corner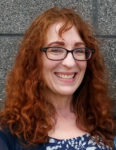 How many friends do you have who really listen? I have a few, and what a blessing! I had dinner with one of them last Tuesday, and we talked, ate, laughed, ate, talked, laughed, prayed, and elbow-hugged! What an uplifting time! As I reflect on the power of being listened to, I wonder, how well do I listen to others? And how well do I listen to the Lord? I notice every time I look in the mirror that some things haven't changed over the years; I still have one mouth and two ears, by God's design! Did you know that LISTEN and SILENT are spelled with the same letters? Hmmm…something to think about. 🙂
Thank You
To the prayer-walkers in our midst, who continue to "walk their talk" of interceding on behalf of the individuals and families in this neighborhood!
To the exhorters, who speak a timely word to nudge us back on track!
To the encouragers, who brighten others' days by their kind words, smiles, and humor!
To the givers, who listen with discernment for needs they can help meet!
To the servants, who work diligently behind the scenes and accomplish so much!
Prayer Concerns
"Devote yourselves to prayer, being watchful and thankful."

Colossians 4:2
Betsey – Praise: "I'm thankful for the rain! It clears the air, and we need that right now."
Paul and Louella – continued prayer for great-granddaughter Ruby Irene, now 8 weeks old. She is able to be off the respirator for short periods of time.
Ron – Praise: "I'm grateful for my new place."
Terrence – Praise: "I'm thankful for this church."
This Week's Sermon
"The Nature of the Gospel"
Acts 14:1-7
Special Days
Birthdays
Rick Gettis, September 22
Anniversaries
none this week….